Specialty Glass
---
Specialty Glass
Corning® Glass
JNS Glass & Coatings inventories Corning® Gorilla® glass 3, Corning® Willow® Glass, Corning® Eagle XG Glass and Corning®7980 Fused Silica.   JNS specializes in strengthening, precision fabrication, precision printing on glass, drilling, optically coating and packaging these materials to meet Corning's standards and meet the specifications of our OEM customer base.


Corning® Gorilla® Glass 3 is an alkali-aluminosilicate thin sheet glass that resistant to most causes of everyday glass breakage.  The glass is resistant to chipping and deep scratches which typically cause glass to break. Thinner, lighter, stronger.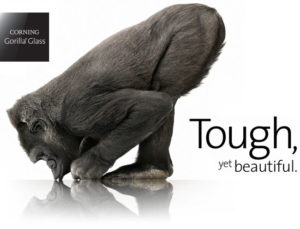 Corning® Willow® Glass
At roughly the same thickness as a sheet of copy paper, Corning® Willow® Glass is thin enough to be flexible while retaining its superior glass attributes. Willow® Glass provides the inherent benefits of glass in a mechanically bendable form-factor, enabling cost-efficient device processing.

Corning® Eagle XG® Glass
Corning® Eagle XG® is a borosilicate glass specifically designed for high performance LCD's. It is considered environmentally friendly as it contains no heavy metals (arsenic, antimony, barium, or halides). The glass also features high surface quality, excellent thermal properties, low density, and high resistance to chemicals.

Corning® 7980 Fused Silica
Corning® 7980 is a very pure, non-crystalline silica glass. It features very low thermal expansion and excellent optical qualities, including very high transmission in the UV spectrum.
Schott® Glass
JNS Glass & Coatings stocks Schott® Borofloat®33 Glass, Schott® Superwhite B270®, Schott® D263 Eco-Friendly Glass, Schott AF32® Eco Thin Glass, and Schott AS87® Glass.  JNS specializes in strengthening, precision fabrication, precision printing on glass, drilling, optically coating and packaging these materials to meet Schott's standards and meets the requirements of our OEM customer base.

Borofloat® 33 Glass
SCHOTT Borofloat® 33 is a versatile borosilicate glass with excellent light transmission, thermal properties, and chemical resistance.



Schott SuperWhite B270® Flat Glass
SCHOTT B 270® which is a crown glass in sheet glass form to meet a wide variety of different market demands, especially suitable for Biotech applications. It is manufactured using a special up-draw process developed by SCHOTT. B 270® is highly resistant to solar radiation and offers high transmittance in the visible wavelength range. It also has a fire-polished surface and offers high chemical stability.

Schott D263® Eco-Friendly Glass
D 263® T eco thin glass which is a clear borosilicate glass that has a high chemical resistance and is produced by a SCHOTT specific down-draw method.  D 263® T is available in a variety of thicknesses ranging from 0.03 mm to 1.1 mm. 

Schott AS87® Glass
SCHOTT AS 87 eco is an aluminosilicate glass suited for chemical strengthening (via an ion exchange treatment) that offers a high level of mechanical impact resistance and bending strength, as well as high resistance to scratches.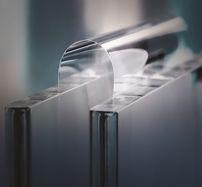 It is available in mass volume with the highest strength in a thickness range of 100 – 350 μm. AS 87 has a sleek feel, superior scratch resistance and is an excellent choice for use as cover or enhancement glass on low profile displays, touch sensors and other high use applications where robustness as well as low profile and weight are a concern.
AS 87 has excellent clarity and a broad transmission range (UVB to IR) making it well suited for photopic displays, NIR and SWIR sensors and scanners, UV cured constructs and a host of other applications.
Mirror
There are many products that JNS fabricates and inventories that can be classified under "mirror".  Some of these products as designed for very specific industries such as beamsplitter mirror used in teleprompters while some of the following products such as front surface mirror can be used across several different industries for varying optical applications.

Beamsplitter Mirror also referred to as a semi-transparent mirror, beamsplitter mirror is designed for use in teleprompters, holographic displays, gaming systems, flight simulation systems, hidden smart displays, hotel mirror displays, and hidden surveillance equipment.


Teleprompter Mirror
JNS supplies professional grade teleprompter mirror in 50/50, 60/40 and 70/30 configurations.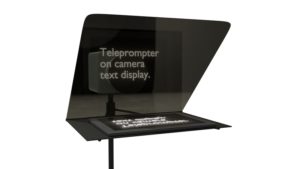 Hot Mirror
JNS offers many different solutions for reflecting heat/NIR ranging from precision coated optical hot mirrors for IR rejection out to 3000nm to Borofloat® glass with IR blocking coatings for industrial applications.

Semi-Transparent Mirror
Semitransparent mirror is commonly used in display and hidden TV applications.  JNS recommends Mirrorview™, Mirrorview™ 50/50 and a 20/50 SpyMirror product for these applications.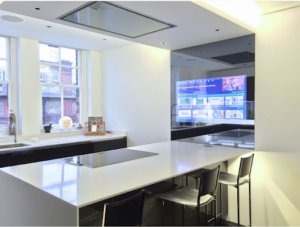 2nd Surface Mirror – everyday mirror found in most hospitality applications.  JNS has turnkey masking capabilities for lighted mirror applications.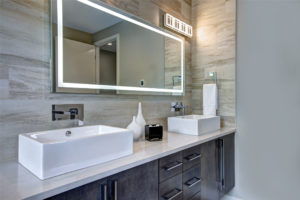 1st Surface Mirror
Front Surface Mirror (aka 1st surface mirror) has a highly reflective surface on top of the substrate, eliminating light passing between the glass and the reflective surface.  Typical reflection ranges from 94-97%. 1st surface mirrors are made for applications requiring strict reflection without a ghosting effect that is common with a second surface mirror.  1st Surface Mirrors (FSM) can be as large as 74" x 140" and can be fabricated just like traditional soda-lime glass. 

Cold Mirror
A cold mirror is designed to block visible light and pass NIR energy.  Some long-pass filters can be referred to as cold mirrors and these filters are commonly used in vision applications to improve infrared contrast and resolution.
Patterned Glasses
Patterned Glass is used in photovoltaics, light diffusion and architectural millworks applications. Most patterned glass can be fully heat tempered.

Solite™ Glass
Solite® glass is a low-iron, rolled product formed with a stippled pattern on one surface.  The stipple effect provides the desired obscurity while retaining high transmission values.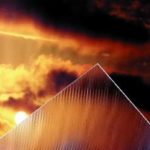 C73 Prismatic Glass
Prismatic glass is a low iron, rolled product with a prismatic surface on one side.  It is commonly used in lighting fixtures to give a 55-degree spread of light.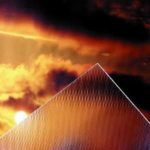 Pattern 62™
Glass Acts as a diffuser and can be used to project an obscure or uneven pattern.
Can be backlit to diffuse light.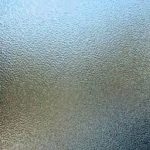 Skytex Linear Glass
Ribbed linear diffusion glass used to spread light horizontally or vertically.
Ideal for diffusing and elongating a beam of light to structures such as columns. Has a 1/8" wide linear fluted pattern on one surface with a 55 degree spread either horizontally or vertically.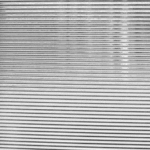 Sandblasted Glass
JNS Glass can sandblast or frost glass on any surface to different grit levels.

Rain
Decorative glass pattern.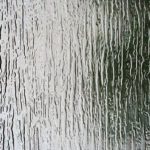 Filter Glasses
JNS specializes in providing filter glass for machine vision, photonics and military applications.  For more information on our filter glass please visit bandpass filters. JNS stocks Schott filter glasses, Hoya filter glass and equivalent materials.  JNS offers bandpass filters with superior optical characteristics including no edge distortion. Filter glass can provided in any type of mount required.

Solid Colored Glass
Colored Glass is typically used in architectural lighting applications or industrial filter applications.  The glass is colored through the entire thickness of the glass and this glass can be heat strengthened for additional mechanical strength and thermal shock resistance.  Primary Red, Primary Green, Primary Blue, Primary Yellow, Light Blue, Medium Blue, Amber, Mercury Vapor Green, Lavender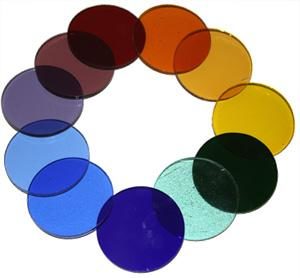 Tinted Glass
Tinted glass is used for automotive, architectural, foodservice, light filtering and several other OEM applications.  Tinted can be fully heat tempered.

Green
Grey
Bronze
Solarcool® Grey
Solarcool® Bronze
GE 124 Fused Quartz
GE 124 is a very pure fused quartz, made from crystalline silica. GE 124 is very similar to fused silica, with the exception of less transmission in the UV spectrum and much lower OH content. Other features besides its purity include excellent thermal properties and high resistance to chemicals.
Ceramic Glass
Ceramic Glass such as Schott Robax® is commonly referred to as glass, but they are actually a transparent ceramic. Ceramic glass can withstand a maximum constant operating temperature of 1292° F due to having virtually zero thermal expansion.  Used in wood burn stoves and extreme temperature applications. Brands: Schott® Robax®, Neoceram®

UV Blocking Glass
JNS stocks a museum-grade UV blocking glass used in many different lighting and imaging applications requiring full blocking of the UV spectrum and high visible light transmission.  By eliminating virtually all UV radiation, it is possible to substantially retard photochemical degradation in textiles, water colors, historical documents, works of art, and other sensitive display items.

Hexagon Louvers
Hexagon Louvers are made of a low-density high strength aluminum material that is commonly used in the aerospace industry.  The are commonly used by architectural lighting manufacturers to reduce glare. JNS stocks MR16 size louvers.  Louvers can be fabricated to any shape or size.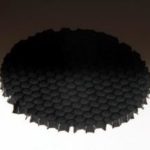 Polycarbonate

Lexan polycarbonate resin is an amorphous engineering thermoplastic, characterized by outstanding mechanical, optical, electrical and thermal properties. The Lexan portfolio provides broad design versatility through its wide range of viscosities and product options such as: environmentally conforming flame retardancy, scratch resistance, toughness, heat resistance, weatherability, biocompatibility, optical quality, and compliance with stringent FDA and USP requirements.

Margard™ coated sheet
Available in four different types, Coated MARGARD™ Sheet not only has the usual properties of a polycarbonate material, it also has a proprietary hard surface coating on one or both sides. This makes it highly resistant to abrasion and weathering. Available clear or bronze-tinted, products come with a limited warranty against loss of light transmission, coating failure and breakage.

Mar/U.V.-resistant LEXAN® MR10 sheet combines the impact strength of LEXAN polycarbonate sheet with a proprietary abrasion/UVresistant surface that approaches glass in performance. LEXAN MR10 Sheet with MARGARD® II coating is the only polycarbonate glazing material backed by a ten-year limited warranty against yellowing, abrasion resistance, breakage, loss of light transmission, and coating failure.
Acrylic

JNSAC380 is an abrasion, scratch, breakage and solvent resistant acrylic protective window made to withstand harsh environments at half the weight of glass windows.  New technology has made windows that are 50 times more scratch resistant and impervious to all types of solvents and chemicals including: acetone and MEK.  It blocks almost all UV light while averaging greater than 98% transmission in the 450-700nm visible spectrum. This acrylic protective window is a highly effective yet economical solution for covering camera enclosures and on-axis lighting. Available from stock in 2mm and 3mm thicknesses, custom sizes and shapes can be quickly laser cut in house. Often used in FDA applications.


JNSAC760 Acrylic NIR Longpass Filter
JNSAC760 is very well suited for use with 785nm, 810nm, 830nm or 850nm laser diode or LED illumination, or in situations where visible light emitted by arc/flash lamps need to be blocked while near-IR illumination is passed.   AC760 material is custom cut from a 2mm thick sheet according to customer specifications.

JNSAC685 Acrylic NIR longpass
JNSAC685 IR Pass/Visible block filter material is 2mm thick acrylic sheet with carefully controlled near-IR spectral properties.  It can be laser cut according to customer specifications and is typically mounted over full spectrum UV/Visible/IR lamp-based lighting to ensure that (mainly) infrared light reaches the subject while otherwise distracting visible light is effectively blocked.